People use our MapKnitter.org site to stitch together aerial images of their environments, and the outputs are often stunning. We've been sharing some of the beautiful images submitted from around the world for #MappingMondays on Instagram. While you're at it, check us out on Facebookand Twitter too!
JOIN OUR TEAM!
We're hiring! Public Lab is hiring a full-time Business and Operations Manager to be based in our New Orleans office. This person will be responsible for bookkeeping and financial management, supporting human resources, and keeping a multi-office, remote team organized through meeting coordination and internal staff communications. Read more and and apply by May 19!
SHARE YOUR STORIES
Big announcement! We're collaborating with Make Magazine on a feature section dedicated to community science in their next issue, and are looking for people to share their stories---activities, how-to's, and experiences---with Public Lab tools. Are you thinking about running an event, adding modifications to an existing tool, or demonstrating community science in the field?
You can participate by sharing your stories as research notes on publiclab.org and on social media, and by joining video calls and conversations as we celebrate the launch of the summer issue. We'll be offering rebates on select kits for people who share their experiences. All events and report backs will need to be completed in June and July so your content can be featured in connection with the magazine's release.
If you'd like to participate, let us know by filling out this form by Sunday, May26, and we'll get back to you with more information!
KITS STORE
We're excited to introduce a new variant of the Community Microscope, the Cell Phone Microscope (Prototyping Version)! This kit can be used with any cell phone camera, without wifi or an external monitor.
This model includes two high-quality lenses (similar to the ones used in the webcam upgrade kit) and a smaller laser collimator lens so that users can experiment and modify the unit. We're currently exploring ways that the three stages and hardware can be configured, and are keen to see how others approach the design of this tool! We're offering a 15% discount code for early adopters through the end of the month (while supplies last) with the code CELLPHONEMAY.
Take a peek behind the scenes at how the we got started with prototyping this kit and testing it out with a tablet (great for groups and classrooms!).
And don't forget to check out our new Public Lab swag!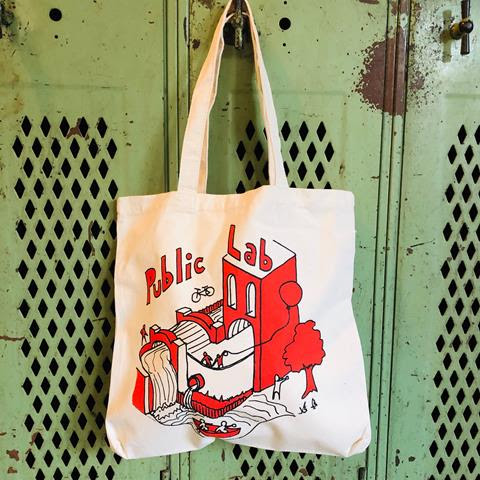 KEEP IN TOUCH!
Stay up-to-date on Public Lab and community events by adding our Google Calendar! Have feedback or an idea for something we should include in future newsletters? Send us an email at newsletter@publiclab.org and let us know!